Pros
Solid steel, pry resistant steel door with an extra thick steel locking plate
Includes a key rack and key tags for securing duplicate or important keys
Document folder provides an easy way to store receipts, passports, etc
Includes 2-removable shelves for added storage
Cons
Can be carried by anybody strong enough to lift it.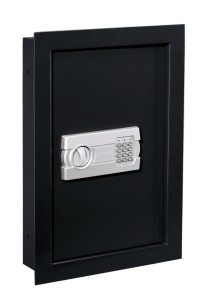 Stack-On corporation has made safes for quite a while hence there are several other brands that are close to the PWS 1522 model.
Apart from gun safes, Stack-on also manufactures filing cabinets, office, and home storage solutions.
The stack-on PWS-1522 wall safe is specially designed to fit perfectly between the studs of wall space.
This safe  is made to store handguns, important documents, and keys, among other important possessions.
Verdict
The Stack-On PWS-1522 is a solid choice that won't disappoint.
We recommend this product!
See Pricing, Ratings and Reviews on Amazon.com
Features of the Stack-On PWS-1522
Includes a key rack and key tags
The solid plate steel offers burglary resistance, the door offers pry resistance.
Has a steel locking plate.
Comes with an emergency access override key
A time out' security feature restricts entry into the safe after 3 unsuccessful unlocking attempts.
A document folder is included for storage of receipts, important paperwork, and passports.
The larger part of the safe stays inside the wall making it easy for it to be concealed by the door. The safe is made of a solid plate steel, extra thick locking plate made of steel and a pry-resistant door for extra security.
It has an electronic lock which can be programmed according to the user requirements. Electronic lock beep can be put on silent mode or kept on by pressing the keypad.
This product has a key rack and tags that identify duplicate keys and secure important keys. It also has a document folder that allows easy organization and storage of paperwork, receipts, and passports.
The pistol strap keeps a handgun secure at the back of the safe. The pre-drilled holes help to mount the safe in-between walls. Its dimensions are 13.8 x 3.75 x 30.6 inches and weigh about 30lbs.
Other Stack-On Safes
These products also provide burglar and fire protection and come with a good warranty cover. The related gun safes are;
Stack-On SS-22_MG-C This safe is appropriate when you are operating on a tight budget and when you have limited resources for safeguarding your firearms.
This safe has adequate space for storage of a large amount of firearms under high security. This gun safe can hold a maximum of 22 guns for easy access.
Stack-On E-24-MG-C-S-DS This is a large and high capacity safe that is ideal for homes with many guns. Its large capacity helps to keep all guns secure and protects other valuables as well. It also keeps secure that you don't want outsiders or your children to see.
This safe is burglar proof, fire proof, and fool-prove. This gun safe can hold up to 24 guns in its numerous compartments. It is also easy to lock and has a solid construction.
Stack-On PWS-1522 Pros & Cons
Its digital keypad works well. It is easy to program the safe and offers sound disabling feature to allow a person access property without drawing attention.

Comes with extra features e.g. labeling tags and key hanging spots.

The safe is heavy and can, therefore, deter a thief for some time.

It is well priced.
Can be carried by anybody strong enough to lift it.
Reviews
CERTAIN CONTENT THAT APPEARS ON THIS SITE COMES FROM AMAZON SERVICES LLC. THIS CONTENT IS PROVIDED 'AS IS' AND IS SUBJECT TO CHANGE OR REMOVAL AT ANY TIME.