Viking Security Safe VS-25BM
Pros
Optical Sensor- Records up to 100 fingerprints
Electronic motorized driving
With high security manual overdrive key system, 2 supplied
Powder coated interior and exterior
External dimensions: H: 9 7/8 W: 13 3/4 D: 9 3/4
Cons
It does not assure smooth and noise free operation.
It is also not suitable for elderly persons and people who have wet, moist hands or have hands exposed to excessive grease or dust.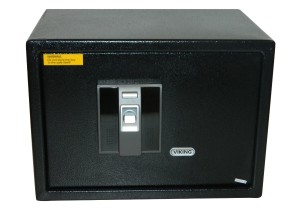 Viking security safe provides a wide array of products to meet the everyday needs and requirement of the people.
They aim at producing unique and innovative safes to provide utmost protection for their customers valuables.
The Viking security safe VS-25BM is an optical sensor, biometric finger print wall safe that assures unmatched accuracy, reliability and performance.
Yes, say good bye to the traditional key locking system with Viking quick sensing biometric reader.
They are indeed touted as the best looking safes available in the market today.
Features and Specifications
It is built tough and robust by incorporating heavy gauge steel construction and a black powder coated finish to assure a sleek look.
This is a wall mounted safe which implements a bio-metric scanner which can program up to 100 finger prints.
This versatile safe implements a motorized door that is powered by 4 AA batteries.
It also comprises of a pry-resistant lock, four pre-drilled holes and a mounting kit. This makes installation and mounting on the wall an easier task.
The notification light illuminates and indicates low battery.
The external dimensions include – height 97/8, weight 133/4 and depth 93/4.
It comprises of two substantial security override keys.
Other Products From Viking
Besides the biometric safes, Viking offers a diversified range of products. They stock everything from small key cabinets, fireboxes, larger rifle safes, wall safes and keyed safes. Their security products are precision engineered to address all your storage solutions.
Pros of the Viking VS-25BM Biometric Safe
Viking security safe aims at providing utmost protection to all your valuable records and possessions.

It has a fast, responsive finger print scanner that can read finger prints in less than a second. Yes is promises a quick fingerprint recognition time.

Even if you forget to change the batteries and they die off the fingerprint information is not lost.

This product comes with a one year limited warranty.

It is easy to mount and operate. Even a small child can operate it with ease.

They are built sturdy and tough to withstand prying and professional picking.

No average locksmith will be able to replicate the keys and hence you need not worry about unauthorized opening or making copies of keys.

The black powder coated finish adds to its aesthetic appeal and look.

It is reasonably priced and also assures good storage capacity.
Cons of the Viking VS-25BM Biometric Safe
It does not assure smooth and noise free operation.

It is also not suitable for elderly persons and people who have wet, moist hands or have hands exposed to excessive grease or dust.
Price and User Ratings
It is available for purchase at an unbelievably reasonable price of around $139.97.
Many users find that the fingerprint reader is easy to program and have no issues while opening it. Many are of the opinion that it reads without errors.
Some satisfied customers also acclaim that the construction is solid and assures great value and functionality.
In short it is a great safe that opens easily every time. Overall, this product has been rated as a great buy that assures good value for money.
Conclusion
If you are on the lookout for a security safe opt for the Viking security safe VS-25BM biometric fingerprint safe and experience an extremely reliable and dependable performance.
Reviews
CERTAIN CONTENT THAT APPEARS ON THIS SITE COMES FROM AMAZON SERVICES LLC. THIS CONTENT IS PROVIDED 'AS IS' AND IS SUBJECT TO CHANGE OR REMOVAL AT ANY TIME.