Which Survival Food is Best?

Can you rely on government support, especially food and water within 72 hours a major disaster or even within a week? Or during a prolonged economic depression?
Most everyone agrees that we shouldn't depend on government emergency support. But only 7% have taken action to be prepared, according to the American Red Cross.
What type of food reserve is best for survival preparedness?
I have sorted through the pros and cons of various survival food options below with these needs in mind.
Two options that you may not be as familiar with are MRE (meals ready to eat) and Freeze Dried Food. MRE is what the military uses for mobile activities, but it is available from the same manufacturers as civilian MRE. Freeze dried food is a longer storing type of food reserve that is also used by the military and government agencies as well as campers and backpackers.
Freeze dried food and MRE have long to very long storage life for emergency food reserves and most importantly require little or no preparation, water, and no cooking equipment.
If you take just a few minutes to read below about the advantages and disadvantages of survival food options to make a wiser more well-informed choice.
Survival Food Options
What are the options for food emergency preparedness?
The conventional wisdom offered by our governments and dedicated survivalists is to go to your local supermarket or big box store and buy canned food and dry grains and carefully store them. There are limitations to this survival food strategy that are highlighted below.
Survival Food Option – Buy Canned Food and Dry Grains
Buy the canned foods, grains, and bottled water as many government agencies recommend. Store in your house or apartment.
Advantages
Can be done in a few hours or less for a 72-hour or one week reserve.
Disadvantages
Most will forget and some will not store it properly so it will be useless when it is needed. Did you do this years ago? Go look at this food now and check the expiry dates on canned goods and check grains for mold infestations, rodent invasions, etc.
Canned foods are bulky and heavy, space is often limited people will not be able to store much
Grains need a lot of water to cook to eat and water may be unavailable or scarce in a disaster.
You will need to spend a lot of time preparing food
Canned foods destroy appetites and morale quickly. Even unexpected allergic-type reactions can occur if the types of food in a diet are drastically changed.
Survival Food Option – Buy Canned Food and Dry Grains and use them regularly on an "inventory cycle" plan
Same strategy as the first option, except you, actively manage storing and 'cycle' inventory of goods. As you buy new food you use up the old canned food so that the food store is less than the expiry date of the canned food.  The main point of this strategy is that you use these items on a regular "inventory cycle" plan.
Advantages
Food will not be bad when you need it
Disadvantages
Most people do not have the time, space, or inclination to do this
Grains need a lot of water to cook to eat and water may be unavailable or scarce.
You will need to spend a lot of time preparing food
Canned foods will destroy appetites and morale quickly
Survival Food Option – Buy MRE's
Advantages
Easy to store and lasts up to 5-7 years in a cool dry place.
Easiest and fastest preparation time possible and can be heated fast with "MRE heaters"
Can be ordered online in minutes, delivered to your house. You will only have to spend less than 30 minutes storing it.
Disadvantages
Relatively expensive per meal ($6-$7) and for an extended reserve of 6 weeks, 3 months, or a year a lot of space required to store.
Lasts only 5-7 years so you will need to buy a replacement reserve relatively soon. Hopefully, you do not live in a place where there is a disaster that often.
Tastes like canned food which will destroy appetites and morale quickly
Survival Food Option – Buy Freeze Dried Food
Advantages
Easy to store and can last up to 30 years.
Fast simple preparation just add water. But only water that is needed to hydrate the food, much less than cooking.
Once hydrated, freeze dried food taste is very close to original food taste.
Light weight easy to store large qty (Mountain house #10 cans) of food for reserves of 6 weeks, 3 months, or a year. A 6-week food reserve can fit under a bed!
Can be ordered online in minutes, delivered to your house. You will only have to spend less than 30 minutes storing it.
Good economical choice – cost can be less than $3.00 per meal.
As you can see there are a lot of benefits to Freeze Dried Food over the other options making it the superior choice as a bulk survival food.
Freeze Dried Food Reserve Packages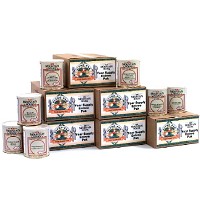 Mountain House 4 person 3-month "dinner Entree-pak"
True food preparedness means;
A food reserve with variety that tastes good so people can eat and be satisfied
Food that is simple and easy to prepare even in a disaster
Food that is easy to store and transport
The new Mountain House 4 person 3-month "dinner Entree-pak" meets all of these conditions and at a low price per meal.
Priced at $1190 this package offers an affordable peace of mind for preparedness for your family that easy to use.
So you don't need to be a dedicated trained survival enthusiast to be prepared. You just need to make the right preparedness choice.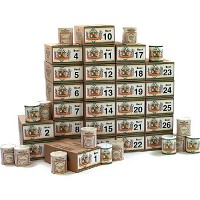 Platinum Food Reserve
Food supports 4 People for 3 Months or one person for a year.
This bulk freeze dried food reserve is (at the time of this post) for $3375, with free shipping and a 120-day 'no-risk' guarantee.
"…will provide over 2000 calories per day for one person for one complete year, or a family of 4 for 3 months! It comes with a total of 168 #10 cans (large restaurant size cans) that comes packed in 28 cases for easy storage."
Available at Nitro-Pak ;
Mountain House Freeze-Dried Food
72-hour Survival Kits
MRE (meals ready to eat)
Free Shipping on orders over $100
120-Day 'No-Risk' Guarantee
Available at the ReadyStore;
Freeze Dried Food
MRE food reserves
72 Hour Kits
MRE Information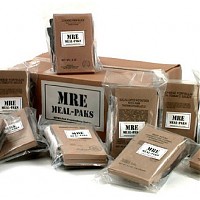 MRE or "Meals Ready to eat" are military-style food rations.
Some reasons why they are a popular choice for survival food;
MRE's paks are a complete meal with the main course, side dish, crackers with spread, dessert, and a powdered drink mix.
MRE packs last 4-10 years depending on storage temperature, longer than most canned food.
They are pre-cooked and in a pouch "ready to eat", nothing needs to be added
Usually, you buy MRE with flameless heaters so you can eat your meal hot (cold is ok too)
USAGE
You can best use MRE for emergency situations where you "are on the go" . Also, if you do not want to waste time cooking or do not want the hassle of bringing cooking equipment with you. MRE's are the most convenient survival food choice.
MRE' cost is about $6 – $7 per meal plus shipping for a case of 12. You can get discounts if you buy larger quantities.
MRE cases and food reserves can be found online at The ReadyStore, Nitro-Pak, Emergency Essentials, and other merchants.
For a food reserve for periods longer than a week, however, a "freeze dried food" reserve is better in terms of space and cost per meal. You will need water for freeze dried food which, although hydrates quickly, is nevertheless is not as "ready to eat"
Planning Survival Food – Short and Long Term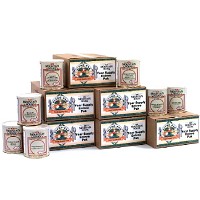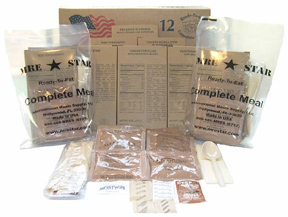 No one preparedness strategy will support all your food needs in a disaster.
While there are huge advantages freeze dried food gives as the survival food of choice, it is not the best in all situations. It is good planning to have a short-term strategy and a long-term strategy to be best prepared.
Below is a look at food preparedness strategies, starting with the long term.
Long Term Survival Food Strategy
Long-term here refers to having a food supply that will last from 2 weeks to 3 months or more. Freeze dried food is best for these situations as it can be easily prepared but still have good taste close to the original food. It is important to not add stress to an already stressful situation with a poor tasting food supply.
Freeze dried food avoids this problem as your family can continue eating a healthy diet that has good taste as close to fresh as possible among all the other food options.
You may still want to prepare a herb or sprout garden kit to add a live food source to your reserve. Astronauts who have eaten freeze-dried foods for extended periods have commented on how they relished live fresh food upon their return.
It will be important after a disaster to have as much time as possible available each day for other important activities. You can maximize your available time by not spending a lot of it preparing and cooking food.
Mountain House freeze dried food in #10 cans (which can store up to 25 years) have 8 to 10 servings each and will last up to 2 weeks once opened. #10 cans are an ideal strategy for the long term.
You will need a large enough space to store the lightweight #10 cans of freeze dried food and also water containers. A freeze dried food supply for 3 months for a family of four can store in a space 3′ by 3′ by 4′ high. You will easily be able to transport this if need be in a van or pickup truck from a storage location to a place you will reside during a disaster. But if you want to be able to be mobile with this type of food supply you will need some type of RV.
Daily calorie intake for different freeze dried food packages varies. Planning 1500 calories a day would be the bare minimum for an adult, even for someone less active. 2100 to 2400 calories is recommended. If you want to plan for support of very active adults you may want to add extra meals to bring the daily total to 2900 calories per day. Small children 5 -9 years old will require about 700 – 800 calories per day.
A water supply of 3 months for a family of four would require is about 440 gallons or eight 55 gallon drums. This will provide a gallon of water each per day for 110 days. You can get food grade storage drums that will safely store water for 5 years. You may have plans for an alternative supply of water in a long term situation and not require all eight of the drums.
Short Term Survival Food Strategy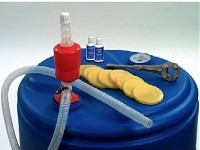 For initial disaster preparedness food supply, MRE (meals ready to eat) are a better choice. They do not require water to hydrate, they are truly ready. They can be heated in 10 minutes with "flameless ration heaters" a pouch that will heat up if you add a little water to it.Short Term Survival Food Strategy
MRE's are great if you want to spend as little time preparing and eating food as possible. This will especially be the case shortly after a disaster where you may need to travel or expend a lot of effort to recover get set up and be prepared for the long term.
One drawback of MREs is that many people are critical of the taste and some report difficulty digesting the food. You should try MRE with your family to make sure no one has a strong dislike for it. It will also be helpful for them to know what to expect in terms of food before a disaster.
The other drawback for MRE is that it is twice as expensive as freeze dried food per meal.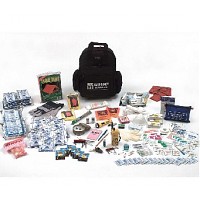 For these reasons, I recommend planning MRE supply for a maximum of 3 weeks. After that, you should be ready to use your long term freeze dried food supply regularly for you food needs. Since MRE lasts only 5-7 years you may want to safely plan to re-stock it ever 4 years when there is an election or when there is an Olympics to help you remember. You want to make sure at this time that the MRE agrees with everyone.
Keeping bottled water cases stocked up will help be prepared for the short term, however for longer than 2 weeks you really need to consider storage drums or some other alternative source to be prepared.
Finally, it would be a good idea to keep a 72-hour kit with food bars or MRE in your car(s) so that you and your family will have support need to get back together if you are separated when disaster strikes.