You can't just let your handgun safe be accessible to just anyone. You have to come up with a plan to have a handgun safe that will only be accessible to you with no one else potentially getting in its way. A biometric handgun safe just might be the key to making sure the things that you are storing are protected as well as possible.
A biometric handgun safe is designed not with a key or a pad or knob that you can use for opening the safe but rather with a scanner that is capable of identifying your information as you place something over it. It can identify you based on many things like your fingerprint or your voice.
This is an amazing product that does more than just make it easy for you to access your safe. It also makes it harder for people to break into your safe. This is especially critical when you consider the importance of your handguns. After all, the only people who should be allowed to access your handguns are you and whoever you are willing to hold responsible. That's why it's good to use a safe for you and everyone else that will access them.
BARSKA Biometric Handgun Safe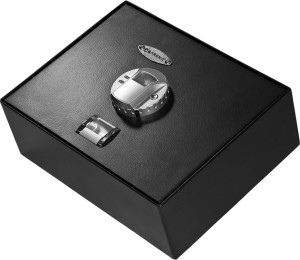 The BARSKA Biometric Handgun Safe is designed with a special fingerprint scanner. It is designed with a program that will allow you to scan your fingerprint onto the device to read it. You can program the safe to read up to thirty different fingerprints at a time. Customers like how easy it is to get the safe programmed to read all of these signals.
The safe can even be mounted onto a wall or other place to make it easier for you to store it in an accessible spot. Emergency backup keys are also included in the event that the scanner fails to work. However, most customers have found that the scanner works amazingly well to keep it active and functional.
Barska makes three different variants of this handgun safe. The Top Opening model can lay flat on the floor and open up like a small chest. The basic biometric safe model is about 16.5 inches wide and 14.5 inches deep and can be pulled out as needed. The Mini Biometric Safe is only 7.8 inches deep and 11.8 inches wide, thus making it useful for smaller items.
Sells for around $225 on Amazon.com.
Click Here to Read the Full Review Directly on Amazon
Stack-On Biometric Handgun Safe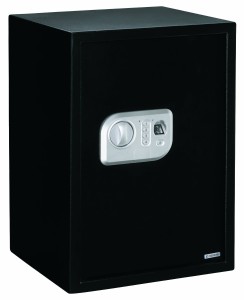 The Stack-On Biometric Handgun Safe operates with a fingerprint scanner that can read up to 32 fingerprints. It is a solid steel safe that includes an adjustable shelf and a foam padded bottom to keep items secure. Each model comes with a series of four buttons that can be used to adjust the safe by opening its control to read and identify fingerprints for future use. The knob on the door that can be pried when it does get unlocked is particularly easy to use.
Customers particularly enjoy the way how the product is easy to open with a numerical code or fingerprint. They also like how the product is insulated well and requires little moisture control.
Stack-On has an Extra Large version of this handgun safe that is 20.5 inches high and 14.5 inches wide. It also weighs 39 pounds and can be mounted onto a floor or shelf with a series of pre-drilled holes. The PS-10-B is a smaller model from Stack-On that is 21 pounds and 14 inches high and 10 inches wide but still has the same control features.
Sells for around $155 on Amazon.com.
Click Here to Read the Full Review Directly on Amazon
LockSAF Biometric Pistol Safe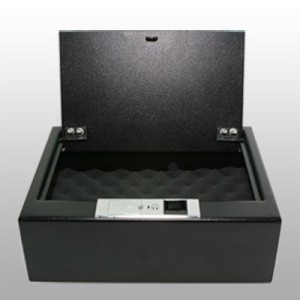 LockSAF has a pistol safe that is made to read your fingerprint as well. It uses a design that is amazingly reliable and can store ten fingerprints. It is made with thick 9 gauge steel and comes with foam padding on the inside to make sure all items inside of it are protected. It also comes with a separate series of keys for the unlikely event that the scanner does not work.
Customers are particularly happy about the pilot holes in the safe that make it easier for the product to be mounted as needed. The door is also very easy to open and customers like how the opening mechanism is separate from the door.
LockSAF has two versions of this biometric handgun safe for sale. The PBS-D Personal Biometric Safe is a faster model that weighs 20 pounds and is 14 inches wide and 10 inches deep. The Biometric Pistol Safe is the basic model that one pound lighter and uses a 9V battery.
Sells for around $350 on Amazon.com.
Click Here to Read the Full Review Directly on Amazon